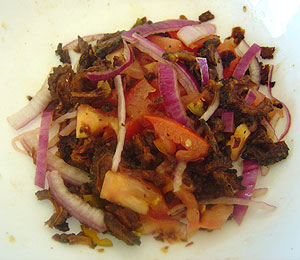 Ingredients:
1 lbs Karawila (Bitter gourd/ bitter melon)
1 red onion
1 green chillie (optional)
2-3 tomatoes
1/2-1 lime
1/2 tsp sugar
Salt
Pepper
Cut the Karawila into 1/8" thick slices and deep fry till golden brown.
Slice the onion and the tomato and add to a bowl. Next chop the green chillie in to very small pieces add to the bowl. Squeeze the lime juice and add salt and pepper to taste. Mix and serve immediately.
This goes well with rice and curry.

---
© Malini's Kitchen - Printed from www.infolanka.com/recipes