This an easy recipe for the otherwise difficult traditional recipe for hoppers. Sri Lankans generally have hoppers for either breakfast or dinner. It is a very thin and crispy pancake. This recipe will serve about 5-6 people.

Ingredients
Yeast mixture:
2 tsp yeast granules
1 tbsp sugar
1/8 cup lukewarm water
4 cups rice flour
1 cup lukewarm water + 1 cup lukewarm beer
1 13 oz can of coconut milk + 1/2 can of lukewarm water
2 tbsp sugar
t tbsp oil
salt to taste


Method
Mix the ingredients for the yeast mixture and leave for 15 minutes until frothy. If the mixture is not frothy at this point, the yeast you used is too old, you will need a new packet of yeast.(Picture 1)

Put the rice flour into a large bowl and add the yeast mixture. Next add the 1 cup lukewarm water + 1 cup lukewarm beer. Mix well. (Picture 2) Now cover the bowl with a wet cloth or plastic wrap and leave for about eight hours in a warm place. The batter should rise to double the original amount.

Finally before preparation add 3/4 of the (coconut milk with water) and 2 tbsp sugar and stir well. If more liquid is needed, add the remaining of the coconut milk little by little. The batter should be thinner than a pancake batter. Add salt to taste. (Picture 3)

Soak a small piece of cloth in oil in a saucer. Heat a thachhiya (a small wok) on medium. When hot rub the pan thoroughly with the oiled-cloth. Add about 1/4 cup of the batter to the pan and turn the pan in a circular motion so that the batter sticks to the sides of the pan. (Picture 4)

Cover and cook for about a minute under low-medium heat. Use a butter knife to loosen the edges of the hopper and serve hot.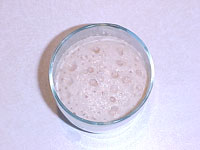 Picture 1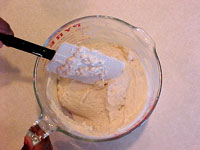 Picture 2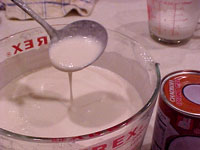 Picture 3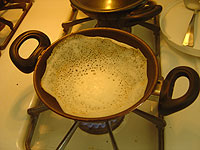 Picture 4
Notes:
If is very important that all the liquids you add in this recipe be in lukewarm condition. What that
means that the liquid should not feel either cold or warm to the touch of the hand.

If the hoppers are difficult to remove from the pan, add a beaten egg to the batter and stir well. It is best to keep this pan solely for the purposes of making hoppers.

If the batter does not stick to the pan when turning the pan, the pan is too hot. Reduce the heat.

If the edges of the hopper are not crispy, add another tsp of sugar.

If the hoppers are not thin enough add a little more lukewarm water.

If you don't want to use beer, replace it with a cup of lukewarm water.
---
© Malini's Kitchen - Printed from www.infolanka.com/recipes