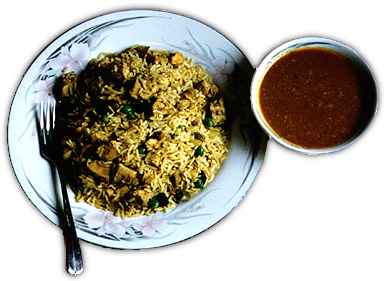 Serves 5-6
Ingredients
2 cups Long grain rice,washed and drained
1 lbs Chicken, cut in to 2-3 inch pieces
2 medium onions, sliced
1/2 tsp turmeric
2 tsp chillie powder
2 tsp curry powder
5 cloves gralic, peeled and crushed
1 inch piece of ginger, peeled and grated
1/2 tsp black pepper powder
2 medium tomatoes, diced
1/2 lb green peas(frozen)
1/4 lb raisins
5-6 leaves of curry leaves
2 inch piece cinamon
1/4 lb cashew nuts, cut into small pieces
3 tbsp butter(or vegetable oil)
3 cardamoms
3 cloves
salt to taste
Method
Heat the oil in a large pan and gently fry the onion till golden
brown. Add the green peas, raisins and fry for another minute.
Remove from the pan and set aside.
Reduce the heat and add the chllie powder, curry powder, curry leaves, garlic
and ginger for 3-4 minutes. Add the meat, balck peper and saute for about
8-10 mins.
Add the chopped tomatoes, cloves, cinnamon, cardamoms, turmeric and salt
and saute for 2 minutes. Add about 1 1/2 cup of water, cover and
cook until the meat is almost cooked.
Remove about 1/2 cup of the gravy and add more salt if needed
and set aside.
Add the rice to the pan and add sufficient water to cook the
rice and simmer covered, on a very low fame for about 15-20
minutes until the rice is cooked. ****
*** If you are using a rice cooker the transfer the meat to the
rice cooker, add the rice and sufficient water and cook according
to directions.
Garnish with the fried onions, peas and raisins. Serve hot
with the gravy.


---
© Malini's Kitchen - Printed from www.infolanka.com/recipes